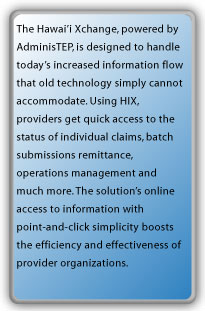 Direct Data Entry


Payors and providers can create electronic transactions using AdminisTEP's Direct Data Entry (DDE) capabilities. The DDE wizard walks users through a series of screens to create the transactions, regardless of the capabilities within the user's host system or practice management system.
Revenue-Cycle Management
AdminisTEP improves the efficiency of the reimbursement process, so providers get paid faster. In addition, AdminisTEP provides the tools that providers need to quickly reconcile submitted claims against reimbursed amounts. Further increasing the efficiency of the process, AdminisTEP's offers the ability for providers to get paid via electronic funds transfer (EFT). Once providers enable the EFT capability, they can login to securely enter their account information to receive reimbursements electronically.
Robust Reporting - From a Provider's Perspective


No more cryptic terms or codes needed to access reports. Claim status is clearly shown via green, yellow or red indicators. EOP reports make it easy for providers to reconcile accounts, as these and other reports are generated in a format that quickly answers providers' questions.